Sara Pennypacker Books
PAX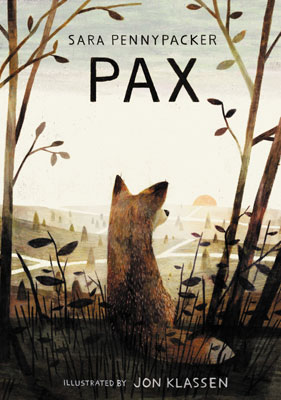 Pax and Peter have been inseparable ever since Peter rescued him as a kit. But one day, the unimaginable happens: Peter's dad enlists in the military and makes him return the fox to the wild.
At his grandfather's house, three hundred miles away from home, Peter knows he isn't where he should be—with Pax. He strikes out on his own despite the encroaching war, spurred by love, loyalty, and grief, to be reunited with his fox.
Meanwhile Pax, steadfastly waiting for his boy, embarks on adventures and discoveries of his own. Listen to the interview with Sara about PAX on
National Public Radio.


Kirkus Reviews (starred review): "Moving and poetic."
Booklist (starred review): "Pennypacker's expert, evenhanded storytelling reveals stunning depth in a relatively small package."
Katherine Applegate, Newbery Award-winning author of The One and Only Ivan: "Searingly honest and heartbreakingly lovely, Pax is, quite simply, a masterpiece."
Ann M. Martin, Newbery Honoree, author of Rain Reign: "A sweeping and enchanting wartime story of trust, loyalty, betrayal, and the love of a boy for the fox he's raised since he was a kit. A master storyteller, Pennypacker leads the reader along a path of shifting hopes to the story's heart-wrenching conclusion."
School Library Journal (starred review): "With spare, lyrical prose, Pennypacker manages to infuse this tearjerker with a tender hope, showing that peace and love can require just as much sacrifice as war. VERDICT A startling work of fiction that should be read—and discussed—by children and adults alike."
Discussion Guide:
Download PDF