Contact Sara
Request a
School Visit
Request a
Speaking Engagement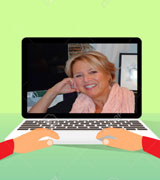 Request a
Virtual Visit
Post a Message to
Sara's Guestbook
Below are the statements from my two major publishers regarding remote learning using Sara Pennypacker books.


FROM HARPER COLLINS
In this unusual time, we are heartened by the fact that so many people are doing things to try to enrich the community while they are staying Please home in efforts to slow down the coronavirus. We are getting emails and calls from teachers, librarians and our very own authors/illustrators who are wanting to offer online entertainment for children of all ages who are now at home, unable to attend school. We think this type of content will be valuable not only to the children themselves, but to the parents who are seeking to occupy their children under extreme circumstances.
With all this in mind we are granting permission for teachers and librarians to do live (only) readings of HarperCollins Children's Books titles online through May 31st. We are also extending the ability to you, our authors and illustrators, to grant the same permission for your titles to any teachers and librarians who are reaching out to you directly with these requests for live content. You should also feel free to organize your own live online readings during this time, if you wish to do so. This permission grant is to best serve the community of readers out there who need us right now. We hope you understand that these are unprecedented times calling for unusual measures and that you will stand with us in providing content to the world.
We will be offering this type of content on our own HarperCollins social channels as well. HarperKids, ShelfStuff, Epic Reads and HarperStacks will all be offering content on a weekly basis. We will be announcing more on that soon.
DISNEY PUBLISHING WORLDWIDE
With the increase in school closures, and many schools transitioning to remote learning, Disney Publishing Worldwide has received numerous requests from teachers across the country asking for permission to post readings of books online for their students to access. We support the efforts of educators and librarians who wish to provide remote learning at this time. Our permission is limited to Disney Press titles. If you are not sure which category a book falls into, please reach out to us at the following address: Dina.Sherman@Disney.com.
We ask that if you read a Disney Press book online for your students that you follow a few short guidelines:
Please note at the beginning of the video that you are reading with permission from Disney Publishing Worldwide, and please note the title of the book.
Please only post your video through your school's private platform or through another closed group or platform with limited access for your students only.
Please delete your video or disable access by June 30, 2020.
Please send an email to Dina.Sherman@Disney.com with your name, school, city, state, and the title and of the book(s) you read online with a link to your video.
By posting a reading, you are agreeing to abide by the above guidelines.
These terms are in effect until June 30, 2020.